MUSCLES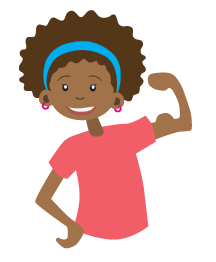 Did you know?

600+ muscles

move your body! Wow!

Your strongest muscle?

The gluteus maximus (your seat, backside, caboose).

Your fastest muscle?

The eye muscles, they blink more than 15,000 times as day.

Your tongue

is the only muscle attached at one end.
Aackkk! You lose muscle if you stop moving,
playing, running and jumping!
Less is More – know what it means?
How about this?! You have 43 muscles in your face.
It takes about 37 muscles to

FROWN

It takes about 17 muscles to

SMILE
Smile more! Use your extra energy to have fun moving.
Be sure to check out this other neat stuff.